So What Is "FGP"?
Release Time:2019-11-29
"FGP" is the English abbreviations of "FOCONO GROUPON PLANTFORM", namely FOCONO Optoelectronics Group Buying Platform. So how do we understand this platform? We mainly give a brief overview from this four aspects: mission, vision, target and cooperation mode.
【The Mission】we are aiming to build up a special channel between global LED buyers and China LED industry through the Platform of Group Buying established by FOCONO LED based on its 10-year outdoor LED factory experience so that the professional buyers can enjoy a incomparable benefits in terms of cost and service from the rapid developing China LED industry in last 20-year。And now it's time for us to be confident and capable of releasing this industry development dividend to ourpartners and co-workers.
【The Vision】To be a LED company that help clients most saving money (Save your money by Groupon).
【The Targets】The target of FGP is focus on three aspects: Price, Value and Service. So how do we achieve these three targets? That is to do three "Most", Lowest Price, Highest Value, Best Service.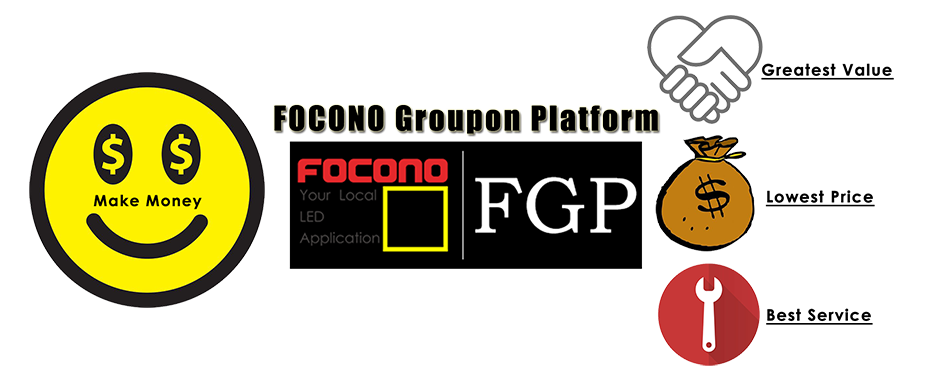 Our company uses a complete supply chain system for group procurement and production, so we can achieve the lowest price in the industry.
Our company is very strict in controlling the quality of our products. The products that participate in the "FGP" platform activities will only be the best-selling products with perfect customer experience. Such as outdoor K series advertising LED screen, outdoor Q series stadium LED perimeter screen and indoor MTV26 series small pixel pitch rental screen, let you experience and enjoy the maximized value.
At the same time, our company also provides after-sales for three-pack service: Free of repairing faulty parts, Free of replacement of new parts, Free of delivery cost by sending the parts out and back for maintenance. 24-hour online technical service, lets you experience the best service.
【The Cooperation Mode】There are three modes of individual customers, middlemen and agents. Individual customers are mainly purchased our products through activities initiated regularly by FGP. Middlemen mainly introduce others to join the FGP activity and earn commissions. Agents are mainly authorized by FOCONO and pay the deposit to obtain the group purchase sales quota so as to have the exclusive agency right in a certain market.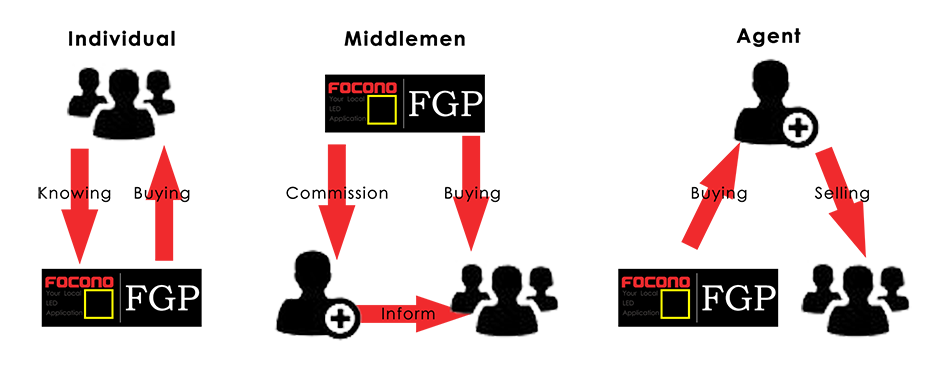 This is "FGP", FOCONO Optoelectronics Group Buying Platform, a LED company that helps clients in saving most money.